This software is the result of previous realeases developed since 1970, with the glorious HP67 and HP 97, little jewels of Hewlett Packard able to work as real personal computers.
The two most important releases of this software in the past years have been "Astral" (early eighties) and Aladdin (2004).
This software is mainly oriented to satisfy the requests of professionals or amateurs of Active Astrology and, therefore, to choose, based on the famous 34 rules published by Ciro Discepolo in many of his books (over 130 in eight languages) and, above all, in the text "Transits and Solar Returns", published by the American Federation of Astrologers.
There is, here, also a free section where you can get a couple compatibility evaluation, existing or that you are planning to start, using the couple score which is usually between 0 points and 44 points, as a very important reference of quality. of the report you are evaluating. You can download for free and read a book, by Ciro Discepolo, within this web space, to understand the various nuances of scores that characterize different couples, not only in love, but also related to people related to work, art projects , travel, study and more.
As for Active Astrology, in this first release of MyAstral, January 2022, you can choose whether to get a chart of a Birth Sky, or of Solar Return or Lunar Return for a specific date and for a specific place (currently it is can choose from tens of thousands of airports around the world and their adjacent cities). Then you can also set up a query in which you ask MyAstral, following the 34 rules of Ciro Discepolo, to recommend the best Aimed Solar Return or the best Aimed Lunar Return for a specific date. The input mask of the starting data is unique and is the following, in its various expressions: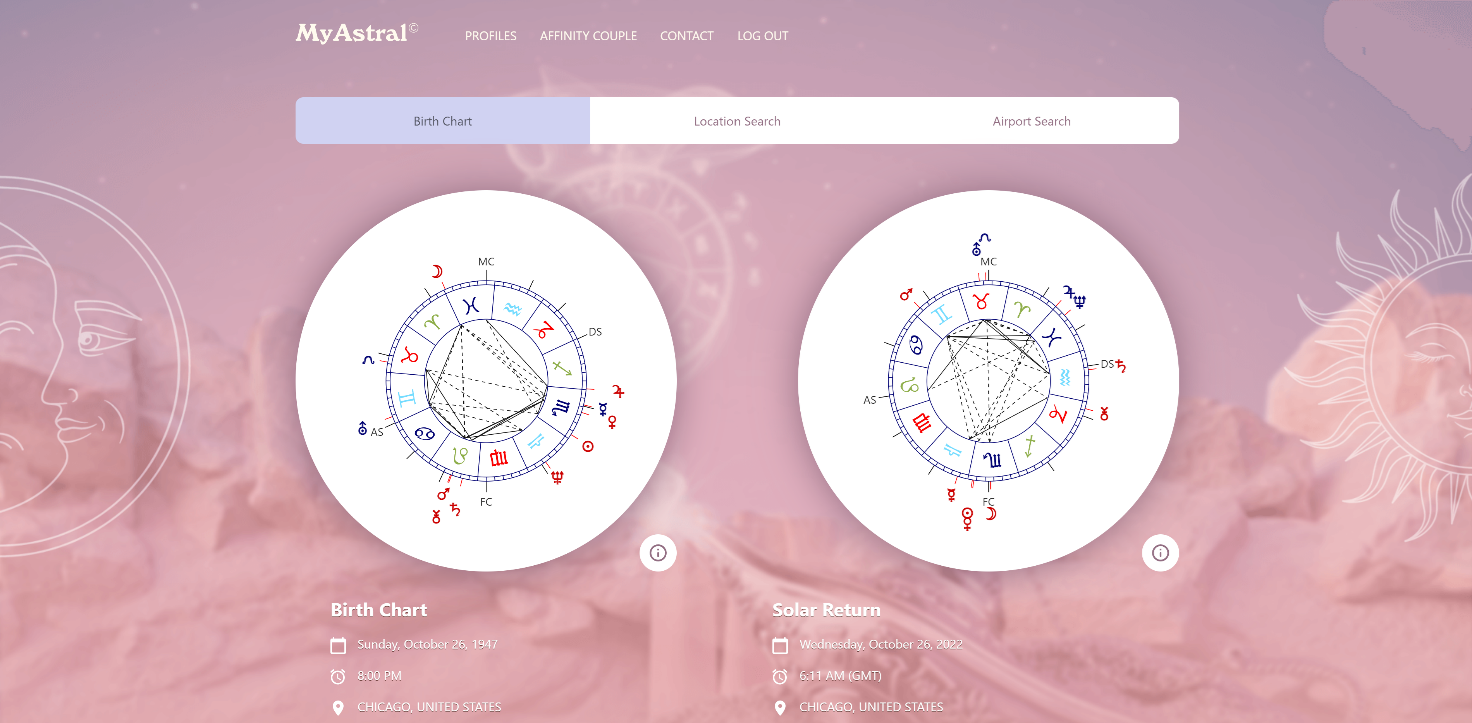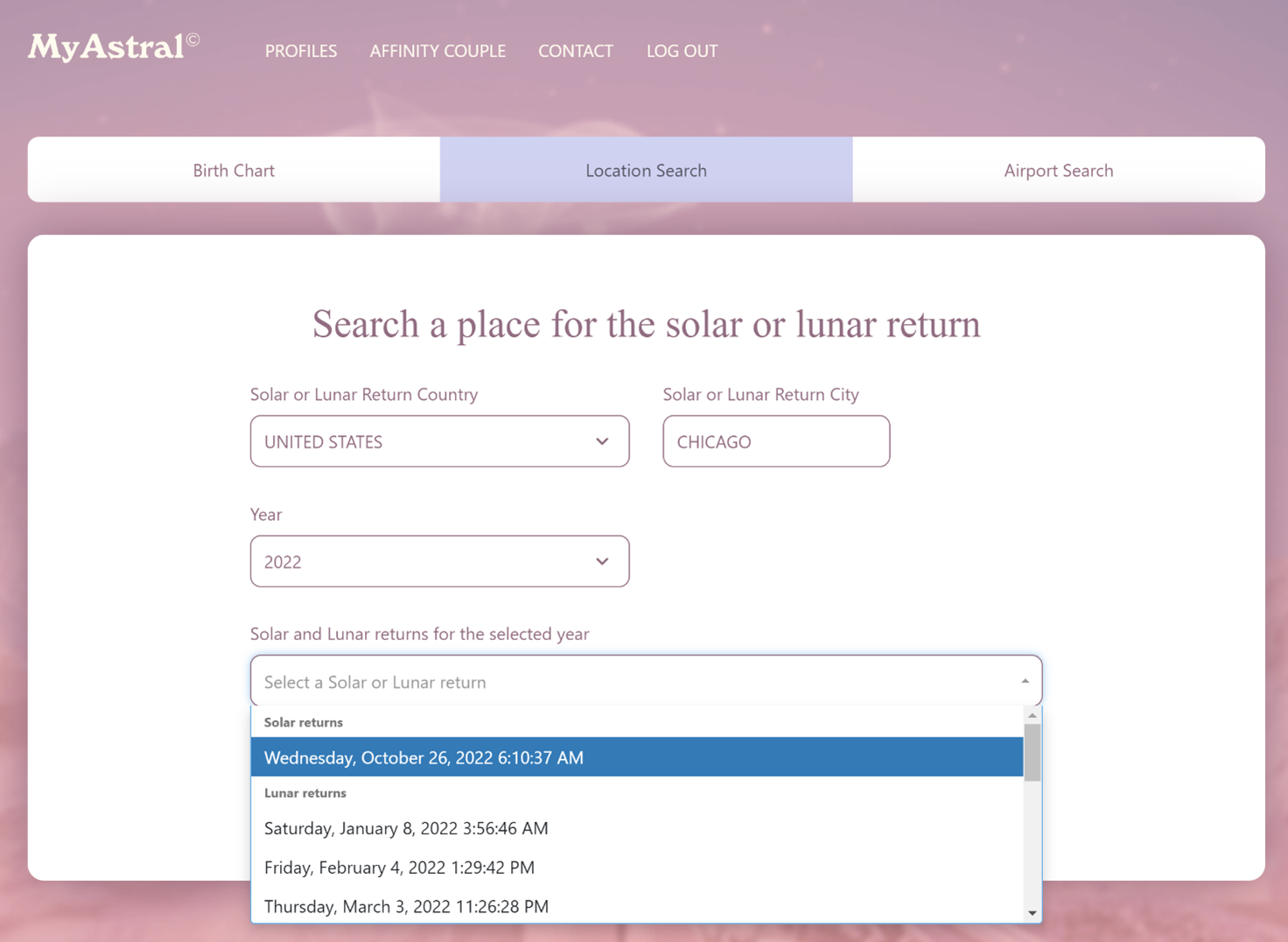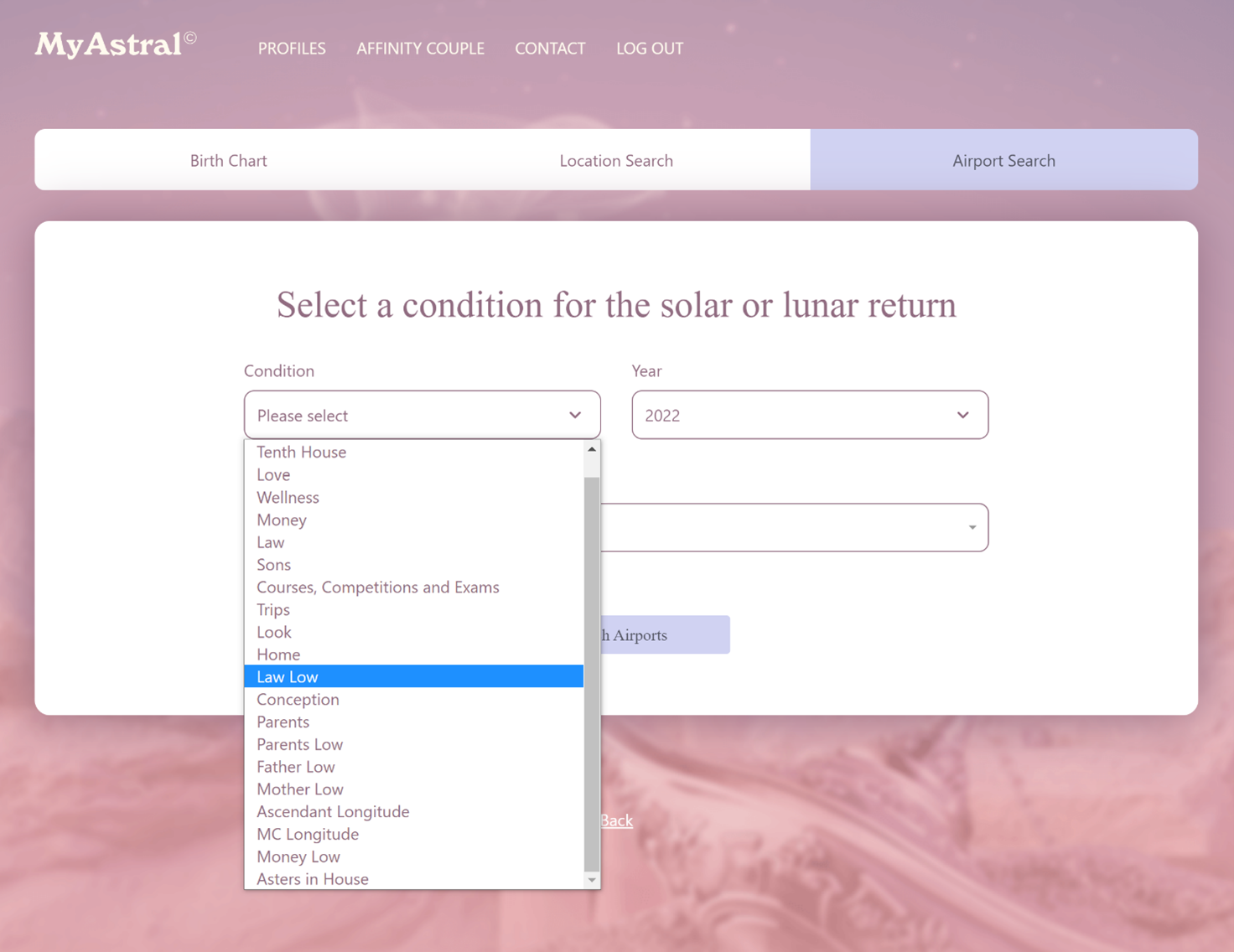 As you can see, the targets are very different from each other:
"Tenth House" is not the House of Work, as many believe, but the sector that speaks to us about our growth in a broad sense: receiving public recognition for our professional value, obtaining a new, more satisfactory condition of social status, for example getting married or getting engaged, being able to solve an old health problem through a new treatment, witnessing a great professional affirmation of our son or daughter and many other things of similar significance (in the book "Transits and Solar Returns" by Ciro Discepolo you will find described many meanings of this step and also of all the others).
Love: as the "label" says.
Wellness: to be better helped by doctors to improve our physical or psychophysical condition, in general or in relation to a specific pathology.
Money: to try to increase our earnings, for a specific year or month.
Law: to be chosen, above all, if in the year or month we are considering there will be a court sentence that affects us. In this area we can also hope to find a legal agreement that will avoid us a bad path in court.
Sons: as the "label" says.
Courses, competitions and exames: exactly as the "label" explains.
Trips: as the "label" says.
Look: to help us choose a new type of hairstyle or type of clothing, but also to lose or gain a certain number of kilos of body weight.
Home: as the "label" says. Law Low: as for "Law", but also accepting a Mars in the 7th house or in the 11th house which can mean obtaining justice, but, probably, paying a very high price for it, as a Mars promises or threatens us. a Saturn in these Houses.
Conception: it is stronger than the search for "children" and can help those couples who have fertility problems.
Parents: it enables us to be more present and useful in the direction of the well-being of our parents.
Parents Low: as above, but - perhaps - also accepting a Mars in the 4th House of Solar Return which is not always specifically harmful to the health of our parents, but which can also mean our enormous commitment to help our father or mother to feel good or better.
Father Low: as above, but "aiming" more at our father.
Mother Low: as above, but "aiming" more at our mother.
Money Low: like "Money", but also accepting the presence of Mars or Saturn, for example, in the second and eighth houses, which can give rise to many expenses, but within a year with many gains.
Ascendant Longitude or MC Longitude: they are identical labels that allow us to get out of the 34 rules and to establish, for example, that we want to know which are all the airports in the world to have an Ascendant 15 ° 30 'in Virgo or an MC at 23 ° in Sagittarius.
Asters in Houses: here too the User chooses to leave the 34 rules and asks, for example, to see all the graphs of the various airports in the world where, in an Aimed Solar Return or in an Aimed Lunar Return, the Sun is in the first house.
In this space, as a historical contribution to the understanding of this software, you will also find the original instructions of the software that preceded it.
To understand where MyAstral is projected, it can be useful, from a historical point of view, to understand first of all where MyAstral comes from. It was born, at the beginning of the Third Millennium, as Aladdin and as GALRO. Here we report, in the guise of historical memory, the original instructions in Italian of these two fantastic software. The user-scholar, especially from a historical point of view of MyAstral, if desired, can also obtain the translation of this online in any language.